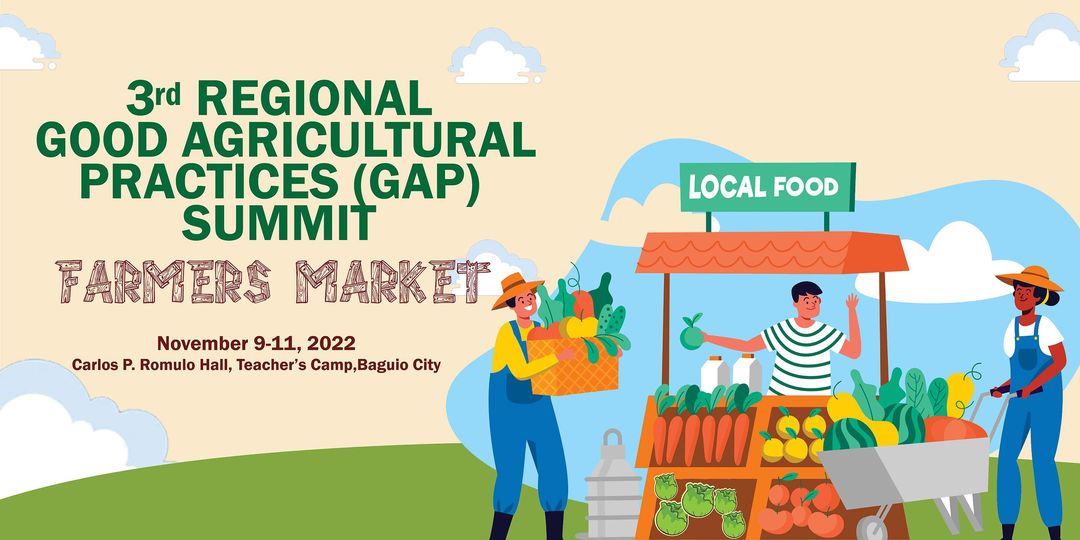 The Department of Agriculture-Cordillera Administrative Region will be conducting the 𝟯𝗿𝗱 𝗥𝗲𝗴𝗶𝗼𝗻𝗮𝗹 𝗚𝗼𝗼𝗱 𝗔𝗴𝗿𝗶𝗰𝘂𝗹𝘁𝘂𝗿𝗮𝗹 𝗣𝗿𝗮𝗰𝘁𝗶𝗰𝗲𝘀 (𝗚𝗔𝗣) 𝗦𝘂𝗺𝗺𝗶𝘁 with the theme "GAP for Economic, Social and Environmental Sustainability," on November 9-11, 2022 at the Carlos P. Romulo Hall, Baguio Teacher's Camp, Leonard Wood St., Baguio City.
In line with this, a 𝗙𝗮𝗿𝗺𝗲𝗿𝘀 𝗠𝗮𝗿𝗸𝗲𝘁 will be showcased on top of the lined up activities which will guarantee selling of safe, fresh and healthy vegetables from the different GAP farms in the Cordillera region.
Everyone is invited to support local farmers. Don't forget to bring your eco bags. See you there!